Lacoste vs. Ralph Lauren: Everything You Need To Know
by — Jared McMahon

Published on February 8, 2020

Updated on October 15, 2023
It's getting easier and easier for men to make a statement with their outfits these days, whether they want to go all out with funky patterned ties or a bright colored pocket square. Fashion has gone from something seemingly just for women, with so many variations in style, to something men can have fun with as well, with tons of options now available.
However, one item that has always been a staple when it comes to a man's wardrobe is the polo shirt. Whether it's a crisp, white polo for the more classic man or a polo with a striking pattern and color for the man who likes to be noticed.
The great thing about a polo shirt is the symbiotic combination of being both versatile and classic. Polo shirts are seen within the sports world, and at casual places like the beach boardwalk, yet you'll still see them with a crisp pair of chinos on a night at an upscale restaurant.
The most well-known and popular polo brands are Lacoste and Ralph Lauren. But, with two options, how do you know which one is right for you? Much of it depends on your personal preferences, and there will always be differing opinions on which is the better brand. So, we're taking an objective look at both brands to help you decide.
Style and Fit
Men's fashion has come a long way when it comes to sizes. In the past, we used to think of clothing as small, medium, and large. However, famous brands like Lacoste and Ralph Lauren have stepped up their game and they now offer a fit for every type of personality and body shape.
Ralph Lauren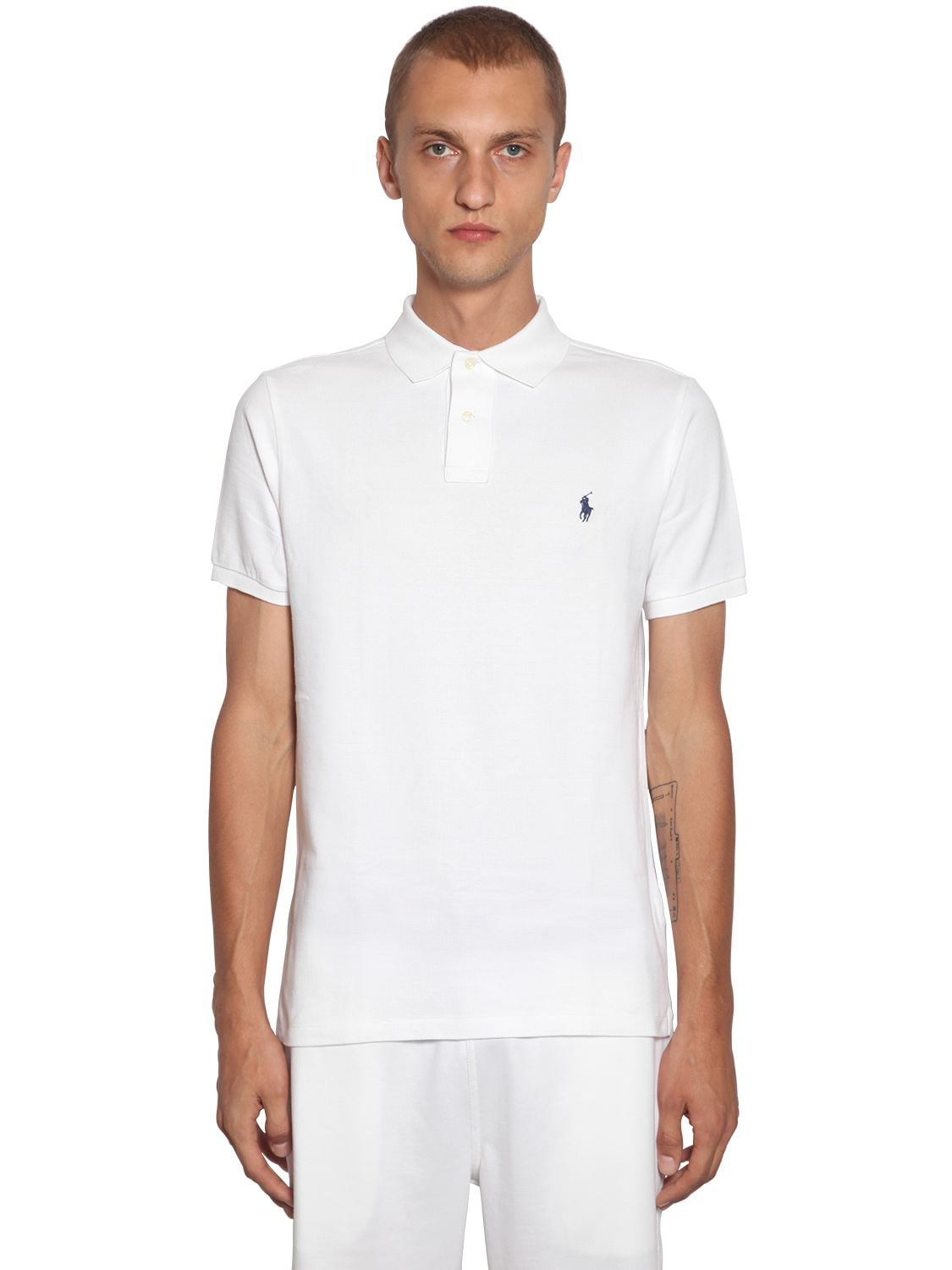 Buy online: Luisaviaroma.com
Ralph Lauren polos tend to run a bit big; their wider in the waist with one defining feature being the longer back which is made to be tucked in. The brand's polos come in four different fits: classic, custom slim, slim fit, and big and tall.
Classic: As the name says, the classic polo is the normal polo as it was made to be, falling below the belt, though not past the zipper or bottom of the pockets on pants.
Custom Slim: These polos are shorter in length, with a closer, more tailored silhouette to give a polished look.
Slim Fit: For the toned man who likes to show off his body, the slim fit is the tightest polo, as well as the shortest, and the arm holes are higher to show off arm muscles.
Big and Tall: This polo is the same as the classic fit, but comes in bigger sizes for the man who is bigger in the abdomen and/or longer in the torso.
One of the most helpful features of the Ralph Lauren website is the overall fit chart that appears with each polo, telling visitors how true to size it is based on reviews from buyers.
Lacoste
Buy online: Lacoste.com
Most men have claimed Lacoste polos are truer to size than Ralph Lauren, as well as being wider in the waist. Many reviews have also said Lacoste polos are shorter in length, as they don't have the longer back that Ralph Lauren polos are known for, with some men disliking this feature.
Lacoste polos have three different fits: Classic, slim, and Paris fit, and come in 8 different sizes, ranging from XS (2″) to 4XL (9″)
Classic Fit: Lacoste classic fit polos tend to be more forgiving in the stomach area, and feature a straight cut with spacious sleeves.
Slim Fit: The slim fit polos are tighter in the waist, featuring narrow sleeves for men with a thinner, or more athletic body type.
Paris Fit: Similar to the slim fit polo, but with a collar usually seen on dressier, more formal shirts.
Prices
Lacoste polos are harder to come by, making them more exclusive, thus a bit pricier than their competition. Ralph Lauren polos are somewhat easier for the average man to buy these days, as they are now sold at many discount stores like Marshall's and Kohls; more than 40% of their sales come from TJ Maxx and Macy's.
Quality and Reputation
Ralph Lauren
Ralph Lauren represents the "American Dream," with their classic, all-American styles that appeal to an aspirational generation who wanted a house with a white picket fence, a golden retriever, and 2.5 kids.
The brand is known for clean cuts that appeal to a variety of age groups, mixing sophisticated luxury with a simple, timeless look. Ralph Lauren once said, "I am not a fashion person. I am anti-fashion. I am interested in longevity, timelessness, style." While at the helm of the brand since it started, he has clearly been the brains behind much of the artistic decisions, and this shows in the direction it's gone in.
While they have lost some business in recent years due to a new generation of consumers with less classic taste, they have increased their spending on digital marketing. However, their company ethos remains the same, with Ralph Lauren once saying, "I don't design clothes, I design dreams."
The Ralph Lauren brand is very transparent on their website about how the polos are made, showing various features of the shirts, like the fact that each button is cross-stitched into place for more security. There is even a custom feature where buyers can choose from a variety of logos, from the classic polo player to a bulldog.
Lacoste
Lacoste are known as a brand with a sporty edge, as the polos were originally made for tennis players. On their website you can find a series of six different fabrics they use, from "The Pique," which is their signature style, featuring durable, textured cotton, to "The Stretch," featuring pique fabric that is more flexible and elastic, allowing for more movement.
The brand is also known for their environmentally friendly approach, following "the principles of sustainable development." They don't use cotton that comes from sources at risk of human rights violations.
Even greater, in 2018 they created a limited line of polos in partnership with the International Union for Conservation of Nature. The brand made 1,775 polos featuring 10 threatened animal species as the logos and produced only the number of polos that corresponded to how many of those animals are left.
History
Lacoste
Rene Lacoste, a star tennis player in the 1920s, who was ranked as the world #1 in 1926 and 1927, was known as "the crocodile" because he "outlasted rather than overwhelmed his opponents." He liked the nickname so much that he had a crocodile logo embroidered into his blazer.
After retiring from tennis in the 1930s, he started Le Chemise Lacoste which produced tennis shirts that were less constricting and uncomfortable than the earlier tennis shirts of the previous decade.
In 1952, he partnered with British brand Izod, bringing the polo to the U.S. and it was seen on the likes of John F. Kennedy Jr. and Bing Crosby, giving it a major popularity boost.
Despite what most people think, Lacoste actually created the original polo, not Ralph Lauren.
Ralph Lauren
In 1967, Ralph Lauren, already working in the fashion industry, was able to get the president of Beau Brummell tie manufacturing to let him start his own line. He took out a $50,000 loan, added "polo" to his name to give it a more sophisticated, English feel, and worked out of a desk drawer in The Empire State Building. The fashion mogul even made the deliveries himself.
He became successful quite quickly, with Bloomingdale's asking for exclusive access to his men's line by 1969 and giving him his own shop. The iconic polo shirt that we know today was actually created two years later when he launched his women's line of tailored suits, and just a year after this he launched the polo in 24 colors.
The brand was really put on the map in 1974 when Ralph Lauren dressed the male cast members of "The Great Gatsby" movie, and put Jay Gatsby in a pink suit that became iconic.
Lacoste vs. Ralph Lauren –
Which should you choose?
In deciding which brand to choose for your polo buying needs, it's important to look at how each facet of Lacoste and Ralph Lauren fit into your own personality and lifestyle.
If you're looking for something with an edge, that is sportier and appeals to a younger generation, you would be better off buying Lacoste, though it does have a higher price point. Check out Lacoste men's polos here.
However, if you're a classic guy who likes a timeless look, preferring a simple white polo with a pair of chinos when you go out for the night, then choose Ralph Lauren. The brand represents the aspirational, American dream, and looks polished and put together no matter the situation. Check out Ralph Lauren men's polos here.
Though Ralph Lauren polos are cheaper than Lacoste, they have become less exclusive over the years, so if that is important to you, then it's something to consider.